This one-on-one coaching is set specifically for high school students, gearing towards understanding these students' strengths, weaknesses, and personality traits. With this coaching program, the student will learn how to explore their passions and receive guidance on how to align them with their current goals.
The modules that will be discussed and explored:
Understanding your personality
Goals with Action Plans
Why is your online presence and social networks so important
The importance of self-discipline
Building self-confidence
Inspire, improve and inform your staff while offering a fresh perspective!  If you're looking for a morale boost, assistance in reaching company goals, or methods to improve employees skills, this speaking engagement is catered to do exactly that. Improving energy and excitement are just a few very important aspects of creating and sustaining a successful business.
What to expect
High ENERGY!
Inspiration and Motivation!
Engaging and Interactive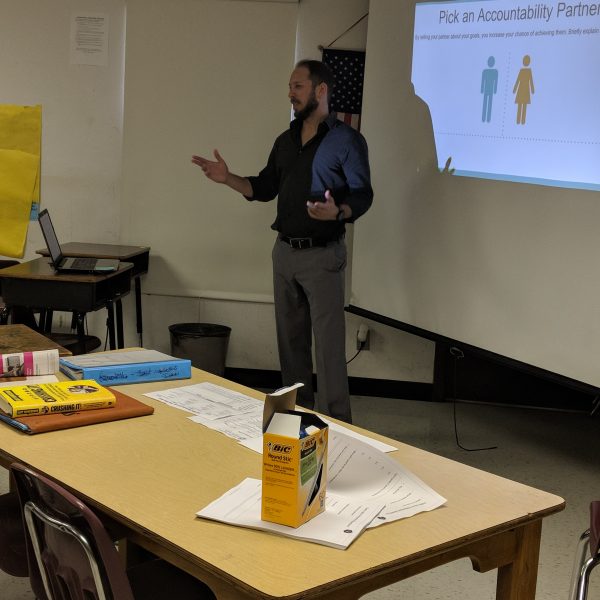 Volspiro Leadership Academy is geared for clients desiring a better understanding of the fundamentals of leadership and how those lessons can be implemented in your career and life. This involves a lot of similar modules from our leadership coaching but will be experienced in an engaging, team-oriented atmosphere. These classes will be held and dates will be posted periodically on the site when confirmed on our Calendar. Click the link below to sign up!
Some activities from our classes consist of:
Learning how to pitch an idea
How to find the right mentor
Who is in your circle of influence?
Becoming a person of action
"The Volspiro team provides advice not clouded by owner's bias and they work to help tailor business strategies to current and future market conditions. Very helpful!."
"At first, I was a bit hesitant because I had never searched for any form of leadership coaching before. However, I was surprised by the service at Volspiro. With kindness, inspiration, and passion, those are the three words that come to mind when I think of the service. In addition, I was also inspired to go out and seek new contacts everywhere. At networking events, on LinkedIn, and a variety of other tools and mobile apps I can use."
"The bottom line is that Bobby helped me increase my bottom line. We went through all the areas of my business (fitness and nutrition industry) and then focused on the obstacles getting in my way to making more $. In my case, Bobby coached me on my sales tactics, sales handouts, and a presentation that went with my sales pitch. Now instead of getting 1/10 people to sign up for my services, I get 9/10. I'm 25 and have 1 year of business experience. I should probably be broke and in debt but I'm not thanks to Bobby. In fact, I'm making more $$ than most of my peers in the industry just because of adopting his sales approach. What more can I say?"
"I have known Bobby over the course of 10+ years. I reached out to him when I was in transition for a new job opportunity. It had been awhile since I had been in the job market. He went over what I was looking for in a new position. He revamped my resume, reviewed interviewing techniques, and showed clever ways to get noticed by companies I had targeted. He also reminded me the importance of finding a position with a company that aligned with my goals. I recommend Bobby for anyone looking for a business coach that doesn't just dole out advice, but one who can enable others to achieve personal growth through difficult times."
"Bobby helped consult my company by exploring options on how to make my business more profitable and reduce expenses. He listened intently to what I was looking for and the type of success I had envisioned. His solutions were quite creative and walk me through each step of the process. His demeanor was laid back but his planning was strategic and precise. I recommend him as a consultant for a small business owner."
"I came across Bobby's LinkedIn page by pure coincidence, after reviewing his profile and reading about his company Volspiro; I reached out to him to gain some insight in a particular industry. I would like to recommend Bobby as a business, career, and personal development coach. He met with me a few times to discuss what my passions and goals were and how he could be of assistance. He made an extra effort to understand my questions, background, and goals before giving any recommendations. He was always positive, motivating, encouraging, strategic, and inspiring to my professional development. He is extremely passionate about his work. I would recommend him to any young professional looking to make a difference in their career development, trying to achieve personal goals, or trying to succeed in their business"